[Jalan-jalan cari makan in Kota Bharu today and tomorrow. If i have the opportunity, i will update from KB]

(Reference:
SOPO Sentral of Malaysia
. SOPO Sentral of Malaysia is a great, noble effort by brother apa nama dia aku pun tak tau. Please make sure your blog is listed in SOPO Sentral of Malaysia - click here if inquiring mind wants to know him)
"Kalau (Tan Sri) Khalid (Ibrahim) menang, akan jatuhkah kerajaan Malaysia? Tetapi kalau Khalid dikalah dengan teruk, maka ia membuktikan kesayangan rakyat kepada Datuk Seri Abdullah Ahmad Badawi"
"Najib akan membuat kenyataan kemenangan di Ijok membuktikan kesayangan rakyat kepada Mr Clean (Perdana Menteri)"
"Yang penting kita hendak tentukan Mr Clean is clean or not clean"
(Siasah 1 Mei 2007 quoted Tun Dr Mahathir Mohamad. Please alert me - sangkutu@gmail.com - if Tun was misquoted)
For updates on Ijok by-election, please switch on your TV...

I wish there were a knob on the TV to turn up the intelligence. There's a knob called "brightness," but that doesn't work - Author Unknown

BM

SPR Salah Cetak Logo PKR
Kenapa BN perlu bertindak ganas di Ijok
Mata lebam di Ijok angkara BN
Selangor juara jenayah: Kerajaan BN Negeri gagal
Selangor catat rekod jenayah paling tinggi tapi polis sibuk ganggu ceramah BA di Ijok
Kerajaan Khir Toyo kena saman
BN semakin terdesak
Anwar Tak Layak Bincang mengenai Maika Holdings - Bekas Wartawan
Podcast RadiqRadio: MIC harus ikhlas bangunkan masyarakat India
Keputusan Ijok Seribu Makna
Ijok : Gambar
Email Buat Dollah
Tersalah langkah ke majlis Mahathir
Permodalan Nasional Berhad (PNB)
Nasi Lemak atau Ijok: Mana Lebih Penting?
Ini secara tidak langsung juga akan meningkatkan prestasi ekonomi Bandar Ijok, kerana sudah pasti ramai pelancong akan berminat menziarahi lokasi
Botol Air-Mineral-Kosong Terbanyak Di Dunia
yang bakal menjadikan Ijok bandar tarikan-pelancong selepas pilihanraya ini.
English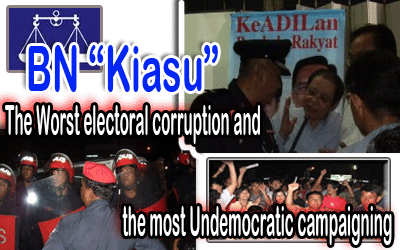 Ijok: BN violence and terror vs. justice for the people
Another attack on Khalid
More violence in Ijok, Keadilan candidate speaks
Khalid was at a police station, with his campaign entourage, lodging a report on another violent attack on him and his Tamil spokesperson P. Krishnasamy.

Ijok : BN banks on money and threats
Sedia Gempur?
Ijok: Samy Vellu is desperate!
Keadilan "Playing Dirty Politics" Says Samy Vellu. Is This True?
Is The MIC Destined To Lose By-elections?
Selective denial of public gatherings at Ijok undermines human rights
Anwar accuses local ethnic minority leaders of kowtowing to ruling Malay party
Round of Updates for Ijok - April 25th 2007
Najib Reveals Reason For Khalid's Animosity Towards BN Govt
Cabinet relieves AirAsia of rural burden
A racist joke for Ijok
Verbal diahorrhea
Excuse me?
New Show In Town
Now the government wants to monitor the Internet
Sacking of Anwar from Cabinet is lawful
The Meaning Of Islamic Economics, Islamic Science Etc
Death, matchmaking and video
Of the government to start blog war
Reject Any Ideology That Uses Racism To Promote National Unity. Does That Include The Government?
Rock the Vote, errrr.. Boat!
PJ Utara, here we come
Guilt-driven depression
Malaysia vs Indonesia : its not badminton
Eroded English
Guardian Unlimited:Fascist America, in 10 easy steps
Picture of the Umno hooligans
Chief instigator is the 'plump' one, who is Mohd Anis Hisham B. Dato' Abd Aziz, Exco Pergerakan Pemuda UMNO Malaysia.