For Bahasa Melayu blogs update, please click here
Quotation to remember:
"And a moron is simply defined as 'a very stupid person'. It will be impolite to say that Abdullah Badawi the Prime Minister is a stupid moron. But it will be more apt to say that he is very greatly lacking in intelligence" -

Ibnu Hakeem
(Reference: Google and SOPO Sentral of Malaysia. SOPO Sentral of Malaysia is a great, noble effort by brother apa nama dia aku pun tak tau. Please make sure your blog is listed in SOPO Sentral of Malaysia - click here if inquiring mind wants to know him. Please alert me on your latest update at the CBox or mail to sangkutu@gmail.com)
Click the titles or images
Ahiruddin Attan
NSTP AGM
Ahirudin Attan
NSTP not going private
Aisehman
All Apologies
Aisehman
IC, But I'm Blind
Alang Rentak Seribu
Dompok quits parliamentary integrity panel
Alang Rentak Seribu
Durian feast flown in from Penang
Alang Rentak Seribu
Tun Mahathir showing improvement at IJN
Amin Iskandar
ANFREL in the Philippines News
Anak Merdeka
Celebrating 50 years of shallowness
Anil Netto
The classic divide-and-rule strategy
A Voice
My Rambling Mind At The Session With Anwar
There were issues raised about him holding back personal criticism on the Prime Minister and yet his campaign against Dato Najib in the Ijok by-election was personal. There was a more serious tone to his voice as he denied both allegations.

While he acknowledged "you (all) are more critical of Abdullah than me," he clarified that he has stated in "strong terms" like incompetent and corrupt to describe Abdullah's administration. My rambling mind was telling me that without specifics, such general accusations is meaningless in Malaysian politics. This is where lies the rising conspiracy of a covert agreement between Anwar and certain parties within UMNO.

He mentioned about some interesting request he gets from family members back in Permatang Pauh that "interlock" with Pak Lah's. He was asked to hold back his criticism of Pak Lah for reasons he is an Ulamak's grandson. The typical rural Malay mind.
A Voice
Tun's Reminder Will Fortify UMNO, Dato' Nazri
Aziz Ahmad Sharif
Three districts picked for prawn breeding
Biggum Dogmannsteinberg
The NSTP Chairman lied?
Cik Gu Bernard
KL cabbie calls these two "binatang"
Cik Gu Bernard
Prickly, so what?
Cik Gu from Penang
Jokes on Politics
Chow Kon Yeow
Even if sexist BN MPs were to resign, there won't be any parliamentary by-election!
Chow Kon Yeow
Human rights violated! Syed Hamid, help rescue Malaysians from Saudi Arabia
Chow Kon Yeow
Koh Tsu Koon: Poll on next CM a negative, fruitless exercise
Crankshaft
Of Apologies And Explanations
Crankshaft
Penalise The Fools!
Dalai Baru
Of blogginess and freedom of expressions
Dalai Baru
Good News For Used Cars Buyers ?
(Satu lagi projek untuk kerajaan Barisan Nasional)
Datuk A Kadir Jasin
Dr M Continues To Show Improvement
Datuk Ron
Joint Committee For IDR Getting Fierce Comments
Datuk Ron
Joint Committee For IDR: Shall We Have A Forum?
Datuk Ron
What Is The Hidden Rationale Behind IDR Joint Committee
Dr Hsu Dar Ren
50 posts to Independence = No.17
Dr Hsu Dar Ren
Joint Ministerial committee a breakthrough
Dr Hsu Dar Ren
Teachers' Day
Ducky
Chinese commentating in F1 is SUPERR!
Elizabeth Wong
A Cabinet Committee on Gender Equality?!
Elizabeth Wong
Drafting thoughts: Open letter to Minister of Internal Security
Elizabeth Wong
International Herald Tribune reports on May 13 book
Elizabeth Wong
Press statement: KDN seizure is illegal
Eschua
F*** U, Pigs!!!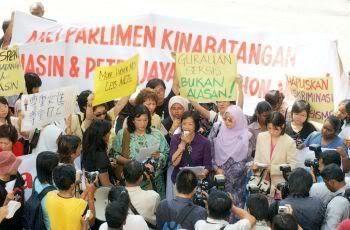 Fong Po Kuan
Sexist Remarks - What is the decision of Cabinet?
Freethinker
You Can Use NIAMAH in Parliament
Hafiz Noor Shams
Of to protect status quo, rewrite history and ignore Srivijaya
Howsy
'Bocor' Issue: The Two Male Chauvinist Pigs (MCPs) Did Not Apologise; The Star Endorses Lying
H J Angus
When You Turn On that Water Tap
Jeff Ooi
SMS Scam ( 1 ) Explain this, Maxis
Jeff Ooi
SMS Scam ( 2 ): It's an organised white-collar crime
Jeffrey Hardy Quah
Leaks and Freaks: A Timeline of Recent Parliamentarian Sexism
John Lee Ming Keong
Moderating Reinterpretations of May 13
Kean-Jin Lim
World-class Parliament?
Khoo Kay Peng
Be Pragmatic to Develop IDR
Khoo Kay Peng
Brain Washed or Completely Racist?
Kersani
All Hail The King Of Beasts
KTemoc
Embracing bloggers - Disgracing bloggers
KTemoc
The Leaking Away of Propriety & Decency
KTemoc
Whoi, pay for the books lah!
Lady Pot Pet
Sexist Indeed...!!!!!
Lim Kit Siang
Bernard Dompok's resignation as PSCI chairman - red-light warning that Abdullah's anti-corruption campaign run aground
Lim Kit Siang
False ICs of another kind
Lim Kit Siang
People's judgment on 2 sexist BN MPs – 6-month suspension as MP and community service with women groups and full apology to Po Kuan and Malaysian women
Lim Kit Siang
Two sexist BN MPs - Shahrizat gender-desensitised when she should have gender-sensitised Cabinet
Linken Lim
Anwar: BN MPs Descend to New Low
Malaysian Unplug
Must Read Article by Johan Hisham Rosli :The Matrix of MALAYS - The Delibitating Condition Called "Ketuanan Melayu"
Maverick SM
Chicken & Duck Talk Cock
Maverick SM
Forbidden Constitution?
Maverick SM
Selected or Selective Justice and Equality?
MENJ
Seriously, I rather talk about Bleach than Srivijaya
Nathaniel Tan
Cristabel Tan on why you should vote
Nuraina A Samad
At the NSTP AGM 2007
Nuraina A Samad
Sexist Fools
Pasquale
Here we go again threatening the Rakyat! But, we elect you! Remember!
Rusdi Mustapha
That journey again! And Eva Air is the way to cross the Pacific to Canada
Sagaladoola
"Fainted": Pak Lah's Administration and Heavy Sedition Act on Bloggers
Sagaladoola
Poor TM Customer Service: My 45 Minutes 'Interrogation' Experience to Lodge a Simple Report
S K Thew
Dreaming of a legislature with integrity
Stephen Francis
Rogue's Gallery